posted on September 30, 2008, 2:33 pm
I'm looking for some advice on a hobby robotics project.
I'm a PhD computer scientist working in a biology lab as the computing
dogsbody. Among other things, we do microarray experiments, which involve pipetting DNA fragments, antibodies and other additives into a 2d array of wells: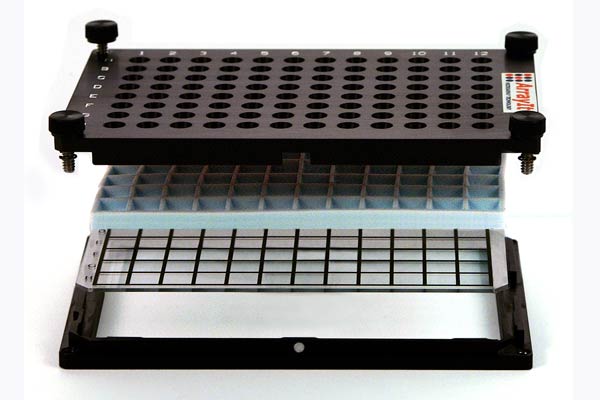 http://shop.arrayit.com/ProductImages/microplate/Microplate-Microarrays-600.jpg
This is currently done by hand - once each for each additive. It takes ages and is very tedious. There are pipettes that do several wells at once, but apparently they're not very reliable. There are also commercial robots, but I'm told they're very large and expensive.
I wondered if I could build a lego robot to do the job, as much for fun as anything else. I would build some sort of gantry, like a loading crane you see at rail-freight stations and ports, and a mounting for a pipette, then use servos to move along the rows, possibly with some other error correcting mechanism.
I'm looking for some advice on equipment. I did a robotics course when I was an undergraduate, using an MIT handyboard. These cost about £200 in the UK. I could also buy a Lego mindstorms kit, about £150, but I'm not sure how ideal this is for the application. Also, I'd much rather have a simple C compiler (as with the Handyboard) than the all-singing Windows only graphical interface I'm guessing I'll find for the Mindstorms device.
Does anybody have any advice on this?
Peter