posted on May 23, 2013, 9:37 am
On Wed, 22 May 2013 16:49:03 +0800, Rheilly Phoull wrote:
Two points to consider: 1. The answer is easy only when you already know the answer. 2. The rebuilder apparently put in the wrong bearings then.
The rebuilder, for $150, put in 6203D bearings, even though the manufacturer seems to specify 6203-2RS, the difference between a seal and a shield being great (one is a contact surface, the other isn't, which is a big deal for a bearing when things spin for hours every day):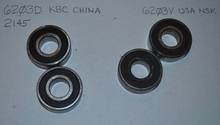 But, now that I know the 6203D is the wrong bearing, and that the 6203-2RS is the right bearing, I do agree. The answer is now simple (now that I know the answer).
It's no longer technical. It's just a part number now.