posted on November 8, 2010, 4:21 pm
I decided to spend a little time yesterday working on the mini lathe. I've got a nice after market 4 jaw chuck that is a lot better than the 3 jaw it
came with, but I still tend to only use the lathe for crude projects. I get more accuracy on the mini mill if I tighten the pinch nuts and adjust the gibs before a project. Yesterday morning I used it to shorten and dome the heads of a couple bolts for the catch on a clay pigeon launcher. I was yet again impressed with how I really don't care for this machine all that much. Still it did the job. Afterwards I decided to retrue all my mating surfaces. I had never trued the front of the adaptor plate for the new chuck/ I just assumed it was good since I had gotten it from a good source. Turns out I was probably right, but I didn't check it first.
First was a retouch of the plate on the head stock. Not bad. Took off uniform material all the way across. Then to separate the chuck from the adaptor. It seemed good, but there were a couple spots that seemed low. Odd. Just like a little puddle area. Its uniform now. Then I ran a straight edge across the heads of the bolts in the adaptor plate. Oops. They just hit now. A little milling on the heads of the bolts and it all went together nicely. I don't have a piece of precision tool rod handy so I chucked up an end mill in the lathe. At high speed it looked a little blurry, so I ran it at low speed with a dial indicator on the smooth part of the shaft, and I got a consistent smooth turn except for a bump of about .006 - .007 on one side. Just to make sure it wasn't the end mill I marked it with a sharpie and rotated it 180 degrees. There was still a bump on the same side of the chuck when indicating the end mill. I suspect one jaw is just a tad short of the other three. I was thinking about taking Varmint Al's approach to truing them up as he detailed here:
Page http://varmintal.com/alath.htm
Pic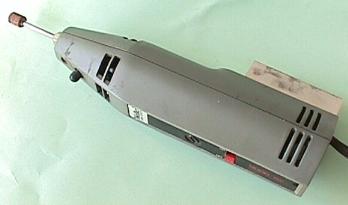 http://varmintal.com/grind1.jpg
It should be easy enough mount a rotary handpiece better than the tool he used to do the job. There are three Foredom handpieces and three generics in the parts bins under the Taig. Just make up a simple mounting bracket like I used on the mini mill.
Is there a better way?
I figured I'ld put it in high gear, crank it up and watch for sparks with the magnifying glass.