posted on November 12, 2009, 7:46 am
Hi all,
I was pointed to this group from uk.d-i-y as I am hoping some kind and able soul out there with a lathe and/or milling machine might be able to
help me out here....
At the risk of sounding like I've got too much spare time on my hands I am in the middle of project building a network-enabled cat feeder. The current design is based around a cereal dispenser driven by a high-torque/ low-revs motor, the latter being controlled by a modified Cisco switch.
The following diagram shows roughly what I am doing from a mechanical perspective: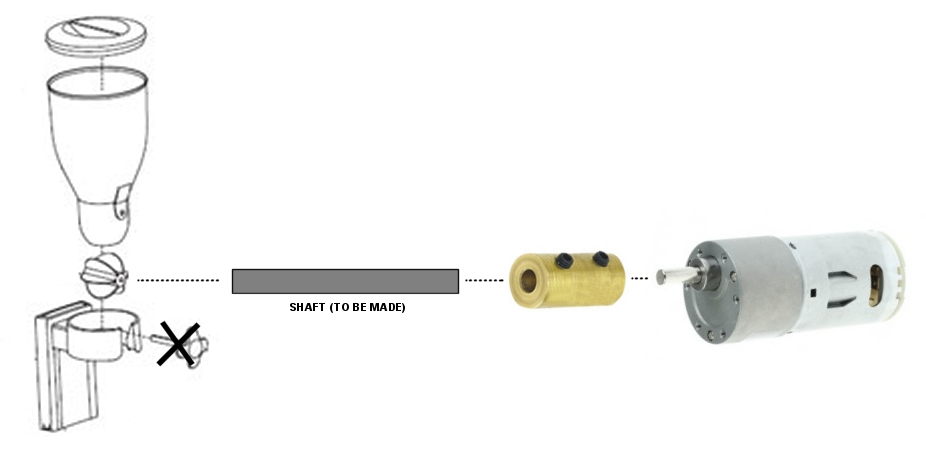 http://www.newtonnet.co.uk/permanent/feederdiagram.png
The cereal dispenser contains a rubber flapper mechanism which accommodates a plastic 'D-shaped' shaft connected to a knob. Whilst I have managed to separate the shaft from the knob and connected everything up I am concerned that over time the high torque required when food gets caught in the flapper will cause the connection to the brass coupling to fail. This is based on the fact that the plastic shaft is rather soft and is not held all that firmly by the grub screw in the coupling. I have considered inserting a metal shim of some sort but I really can't see it lasting.
Hence, I am wanting to replace the plastic shaft with something made out of metal. Unfortunately whilst my apprenticeship days taught me the skills to do this I do not have access to the necessary machines to do so.
Would anybody be able to help me out here? That kind person would be suitably compensated as required. I have made a drawing showing the necessary dimensions (using Word - my teachers would not have been impressed!):

http://www.newtonnet.co.uk/permanent/shaftdrawing.png
As you can see, the coupling to the motor (right-hand side) is required to be smaller than the main shaft - I could not find a shaft coupling any bigger than 6mm (the motor shaft is also 6mm). The rather strange (specific) dimensions of the main shaft (which is fully inserted into the flapper body) is, I believe, a result of it being US-made and hence of imperial measurements.
Happy to provide further info and clarification if required. Indeed I am all ears to alternative ideas too and/or suggestions as to who/where might be able to make this shaft for me.
Regards,